, 2023-01-03 02:00:00,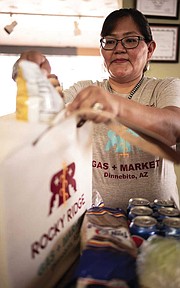 Cherilyn Yazzie, owner of Coffee Pot Farms in Dilkon, Arizona and Germaine Simonson, owner of Rocky Ridge Gas + Market in Hard Rock, Arizona are hoping to use their new leadership positions to help Navajo owned small businesses thrive on the Navajo Nation.
Both women own businesses in rural areas of the reservation and want to make sure rural regions aren't left out of the conversation.
Yazzie will be representing the following Chapter Houses: Dilkon, Greasewood, Indian Wells, Whitecomb and Teesto. Simonson will be representing Black Mesa, Forest Lake, Hardrock, Pinon and Whippoorwill Chapters.
The two women join a historic council with a record number of women leaders serving in Council Delegate seats. There will be nine women representing their communities.
"It's a gift and we have to take care of it," Simonson said. "We have a lot of young women and young girls watching us and the picture that we paint is going to be a message to them."
Yazzie echoed the importance of being role models, saying grandmas, aunties and young women are watching them. She hopes the young women see that it's possible for them to hold leadership roles or that they see it's possible to run a successful Navajo small business.
"If we use our camaraderie and women collaborate and if we can be cohesive, we can do a lot. We can really get a lot of work…
,
To read the original article from news.google.com, Click here
Private Internet Access gives you unparalleled access to thousands of next-gen servers in over 83 countries and each US state. Your VPN experience will always be fast, smooth, and reliable.